Bound by Steel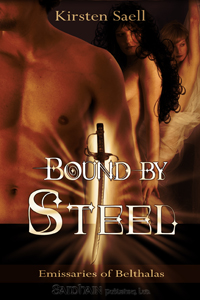 Emissaries of Belthalas, Book 2
A night of brutality destroyed her innocence…can the love of two people heal her wounded spirit?
"I've been thinking about Kaela…"
There they are—the words that lead Gil to suspect his wife Lianon is falling in love with Kaela, the beautiful, traumatized young woman they rescued from certain death six months ago. Gil has no idea how to compete with a woman for his wife's affections, and part of him ceases to care as Kaela begins to work her way under his skin.
Kaela's sweet innocence fills a chasm in Lianon's soul she hadn't even realized was there. As she gently helps Kaela rebuild her shattered confidence, Lianon begins to believe healing the young woman's wounded spirit could be the key to wholeness for all three of them. If Gil agrees to follow her lead and help Kaela discover her own feminine power.
But even as they all succumb to their growing desire, Gil and Lianon are drawn against their will back into the intrigues and vendettas of Belthalas' elite. With Lianon's life at stake, Gil must weave a dangerous path between one adversary's ambition and another's lust for vengeance.
Success will save Lianon…but could cost them Kaela. 
Product Warnings
This title includes explicit sex, including f/f, m/m, m/f/f, anal sex; bad language; questionable politics; violence; stringy, overcooked lamb; a dog with a major drool problem; and one seriously well-deserved comeuppance.
Purchase in print from: MBaM, Chapters-Indigo, Borders, Amazon, B&N
Praise for Bound by Steel:
The depth of the relationship between Gil, Lianon and Kaela was extremely well thought out and very satisfying. The plot, the characters, their relationships and interactions were wonderful, making both Crossing Swords and Bound by Steel highly engaging reads.
Ms. Saell has created a world evocative of the best of classic fantasy literature and peopled it with richly seasoned characters and healthy measure of spice.  Her prose flows smoothly, drawing you swiftly and deeply into the story.  You can't help but wrap your heart and imagination around Lianon, Gil, and Kaela, willing them to find the happily ever after they so deserve.
                                      ~Maia Strong, author of The Ballad of Jimothy Redwing
I've long been a fan of Kirsten Saell, both as a person and as a writer. I love her take on fantasy romance, which is both sexy and believably fantastic. This third book set in the same universe as Crossing Swords and Healer's Touch is no exception… I can't wait for Ms. Saell's next entry in this series, and if you like well-written fantasy romance, you should give this a go.
 
                                      ~ShannonC,The Good, the Bad, the Unread
 
A wonderful continuation of Lianon and Gil's story. Romance, passion, treachery, and swordplay—what more could you want? 
 
                                      ~Aislinn Kerry, author of All that Glitters
Kirsten Saell's gritty, bawdy, colorful way of writing is so entertaining in itself, and that made this book so much fun to read even outside of the story. Her writing and story telling seems to be maturing with each book and I hope there is a third Emissaries of Belthalas because I'm totally addicted.